Sarah Shevon restrained and
used hard from both ends by
hard cock, drooling brutal
deepthroat! | Sarah Shevon | Matt Williams | Jack Hammer
Oct 8, 2014
Sarah Shevon is the wholesome girl that you wish you lived next door to. Pretty, pale and tough as they come, she can take an epic dicking down that would leave most girls whimpering for mercy and running away. Her holes are tough and crave the cock. Lucky for this fucktoy, we can give her exactly what she needs.

Bound face down ass up with leather belts onto a custom made wooden bondage device that leaves both ends deliciously, completely exposed, Sarah is wide open and ready for use. And use her we do. 10 inches of huge black cock walks up and themselves at home in that wet willing mouth. In no time at all the drool pours out and the makeup starts to smudge as the dick has its way with her.

Another cock comes up from behind and takes the other side. Sarah is now simply the meat in a sex sandwich. She sputters and gasps as she is blasted into subspace. Her eyes glass over as she chokes on the endless cock running a train on her face. Her pussy is pounded out as she cums hard and helplessly. Welcome to your new life my dear. You are going to be here a while, you might as well get used to it.

We leave her lashed down, covered in her own juices and a river of drool running down to the floor. We will be back later for another serving Sarah. Until then just relax and wait for us...
Sexy Sarah Shevon belted down
and throatboarded by two huge
cocks until she is utterly
destroyed | Sarah Shevon | Matt Williams | Jack Hammer
Sep 22, 2014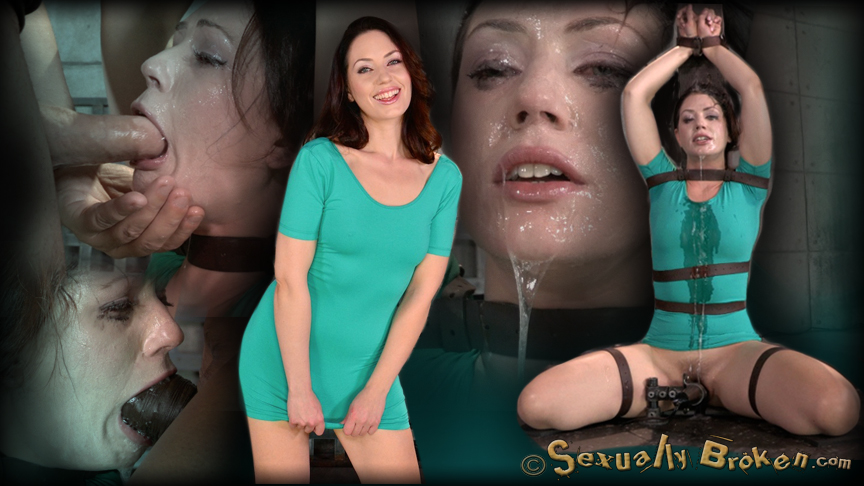 Pretty pretty Sarah Shevon. Look at your perfect makeup and hair. Look at your pretty dress and nice little body. What a pity we are going to destroy all of that today. Ok, it isn't really a pity. It is why Sarah is here today and why this site is called Sexuallybroken.

Bound with thick leather belts to a custom made wooden bondage device, Sarah's arms are stretched high above her. Her head rests against the wooden pillar. She can not move or turn her head, there is no escaping the dick. Sarah is about to find out exactly what throatboarding is. A vibrator bolted down between her legs is the icing in the cake. Time to unleash the hounds.

One after another, the cocks walk up and make full use of that mouth. The dick is relentless, without mercy and never slows down. Sarah can not get on top of it, all she can do is struggle to survive, sneaking a gasp of air whenever she has the chance. The dicks wipe that makeup right off her face and replace it with drool. Sarah is dazed and loopy, her eyes glassy with animal survival.

All the while, the vibrator is working away between her tender thighs. Between the brutal throatboarding and orgasms, Sarah is gone. She is reduced to a twitching, vacant eyed shell of a porn starlet. Welcome back to Sexuallybroken my dear, always a pleasure. Until next time...
Sexy girl next door is bound
hard for cock. Deep throated,
pussy fucked, helpless and
cumming! | Sarah Shevon | Matt Williams
Dec 10, 2012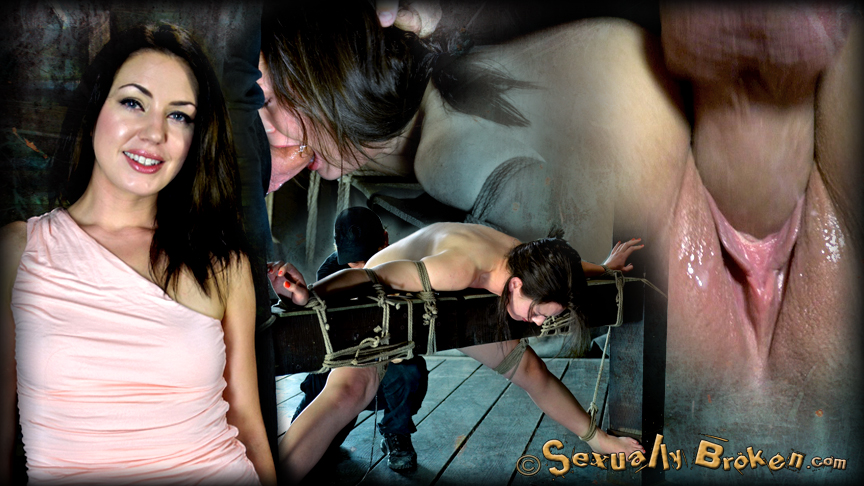 Welcome back Sarah Shevon to Sexually Broken. Sarah is your very typical girl next door, except this girl loves bondage, orgasms and cock. The harder the better in all three cases.

Severely bound with her ass out and throat available, Sarah finds herself in a tight bind. We are going to work Sarah over with some pain today. She is going to have to earn her orgasms.

The first thing we do is turn her on sexually. Sarah's throat gets well used, a deep, rough throat fucking. The harder the skull fucking the wetter her pussy gets. The endorphins start pumping and Sarah is heading on the fast track to subspace. We pull out some brutal nipple clamps. We clamp her nipples and painfully pull them to rings in the floor. This severely limits movement, Sarah must be careful, very careful.

We bring out the cane. Hard, swift strokes strike up and down her back of her legs and ass. Deep red marks instantly appear, Sarah screams from the pain. With every hit she jumps and her nipples suffer. We pull out a vibrator to tease, she wants to cum but we deny. We tease her to the limit, then jam a hard cock deep into her wet pussy. We fuck her hard and deep, each thrust bring pain to the nipples but closer to orgasm.

We move from deep pussy fucking to deep throat fucking, back and forth never giving Sarah a chance to get on top of things. We overload her senses. In the end we vibrate her to several brutal orgasm and tighten up the bondage so she is partially suspended and cumming. She cums hard and often, there is nothing she can do, her body just cums and cums, her brain is along for the humiliation of it all...
Cute girl next door bound on
screen, roughly skull fucked,
pussy fucked, brutal squirting
orgasm | Sarah Shevon | Matt Williams
Nov 5, 2012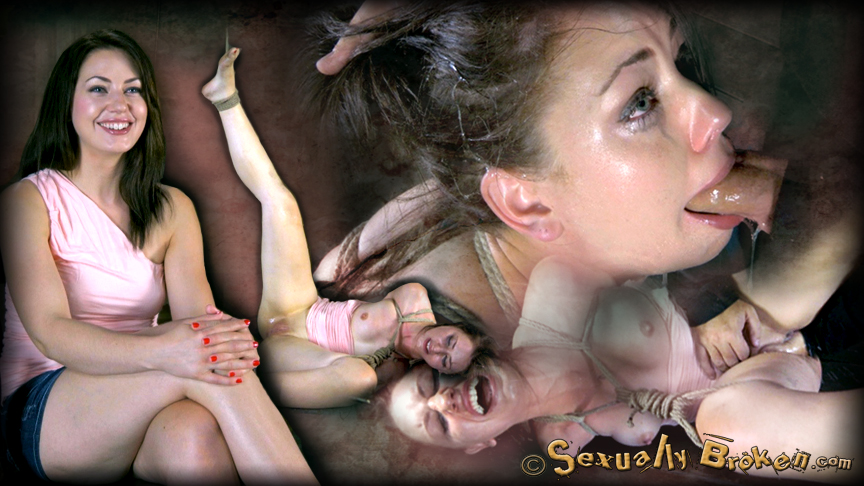 Sarah Shevon is back on Sexually Broken. Does any one else think she looks like Sara from CSI Vegas? Go ahead google it.

This was the "Meet and Greet" with our sexy girl next door. All the bondage is done "live" on camera for you to see. The entire scene is made up on the spot, it flows, morphs before your eyes. It is the most realistic BDSM sex scene you can find anywhere on the net.

We start by tightly binding Sarah's elbows behind her back, the knot well out of reach of her probing fingers. With just this one rope Sarah is completely helpless. We bind her wrists together next and make her undress for us. She struggles to remove her shorts, and only gets her cute panties off halfway before we command her to her knees and jam our cock all the way down her helpless throat.

Sarah suffers an intense deep throat fucking! Drool and spit running down her helpless body. Her face is getting fucked, roughly fucked into subspace.

Dizzy from her skull fucking, we yank Sarah up bend her over and slide the cock deep into her shaved wet cunt. Within seconds she is asking us for permission to cum, this girl has manners. We answer her by fucking her harder and she cums anyways. We are relentless, the second after she cums, we knock her back to her knees and brutally fuck her tight, vulnerable throat again. It is a overload. We fuck her mouth till she flashes, knock her on her back and finger blast her to an intense, screaming, devastating, squirting orgasm that rips at Sarah's very soul!

Dazed, confused, floating deep in subspace, Sarah's bondage is still tight, still inescapable. We bind her leg up, exposing her pussy. We attach a powerful vibrator to her sensitive clit, making Sarah cum again and again. In the end she is a drooling, dazed mess, lying in her own squirt, desperately trying to catch her breath. She just survived a sexual gauntlet!!!
Girl next door, bound on the
worlds most powerful orgasm
machine cumming her brains
out! | Sarah Shevon | Matt Williams
Oct 3, 2012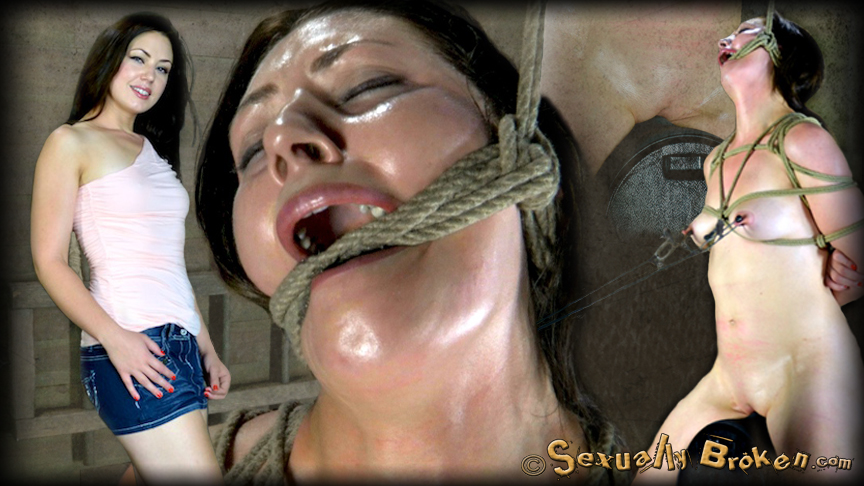 Welcome Sarah Shevon to Sexually Broken. Sarah is one of those girl next door types that live right beside you. She wears shorts, and a t-shirt, and carries groceries into her house. You look at her and think is she pretty cute, but you really have no idea.

We love taking these innocent looking girls and making them cum. Not just cum, but cum over and over, until they think they might pass out from the brutality of the orgasms. Each orgasm gets stronger. The clit gets more sensitive with every orgasm and the Sybian never tires, never quits. When the girl is stuck on one, she is turned into a screaming, moaning cumbot 2000. Orgasm after orgasm, the machine is relentless, turning the girl's brain to mush, her heart to overload.

Beautifully bound in a technically perfect, modified Japanesse box tie, Sarah is completely helpless. Her shaved pussy sits atop the world's most powerful vibrator, her weight holds the pussy in place. There is nothing she can do to even squirm off it a little bit, she is in sexual trouble and she knows it.

A unique rope gag holds our Girl Next Door in place, while the machine rips her brain apart. Suction cups enlarge her nipples and we clamp them out, pulling her forward. The rope gag is pulled up. Sarah is caught, pulled in two different directions. The tightness of everything flashes her brain and her orgasms grow stronger, her screams deafening!

We leave our poor little girl next door on the evil machine. We walk away as another orgasm rips though her exhausted body. How much more can one helpless girl take?